Is Professional Water Cleanup Best for Commercial Emergencies?
6/22/2022 (Permalink)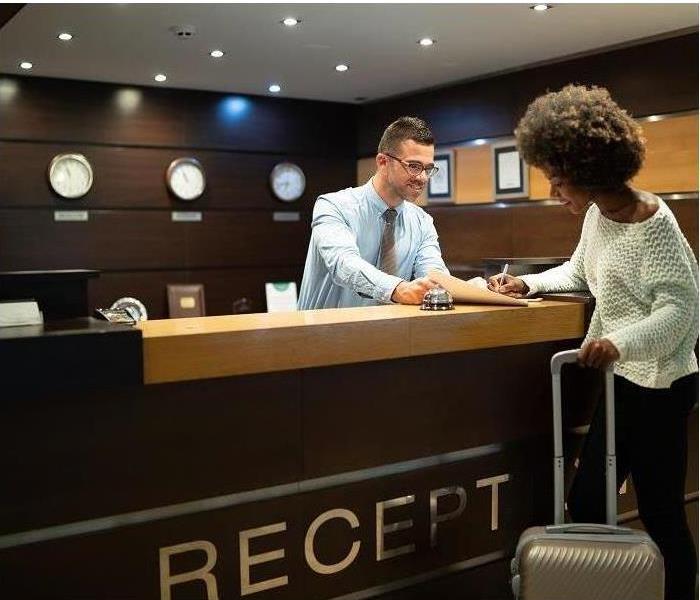 Should water damage 'check into' your hotel, call SERVPRO. Our Green Fleet is standing by to handle your water restoration emergencies.
Save Time and Overhead in Middletown by Calling SERVPRO to Handle Your Commercial Water Cleanup
A water emergency often causes downtime and unexpected costs when you manage a production facility or hotel. The best way to mitigate the damage and ensure you get the most cost-efficient results, calling in skilled technicians is the way to go. SERVPRO is available to handle the cleanup at your Middletown commercial location should you have any water emergency type.
There are several reasons to look to skilled water restoration technicians to address your water cleanup needs in Middletown, including:
Certifications –All of our technicians have been through training following guidelines set forth by the IICRC (Institute of Inspection, Cleaning and Restoration Certification). This knowledge allows our team to select the right equipment, the appropriate number of units, and methods to get the project done right the first time.
Insurance Liaison –We understand the insurance claims process concerning water damage events. We are happy to ensure all of the proper paperwork is in place, photos get taken, and details are covered to satisfy your insurance provider.
Streamlined Processes –We arrive with a fleet of trucks equipped with tools to remove water fast. Not only that, but we have proven methods to speed up the cleaning and drying of your commercial property.
By calling (845) 342-3333, you will have all the water cleanup help that you need in your commercial space. SERVPRO of North Orange County is available 24/7!