Can Professional Services Deal with Contaminated Water Cleanup in Middletown?
3/16/2021 (Permalink)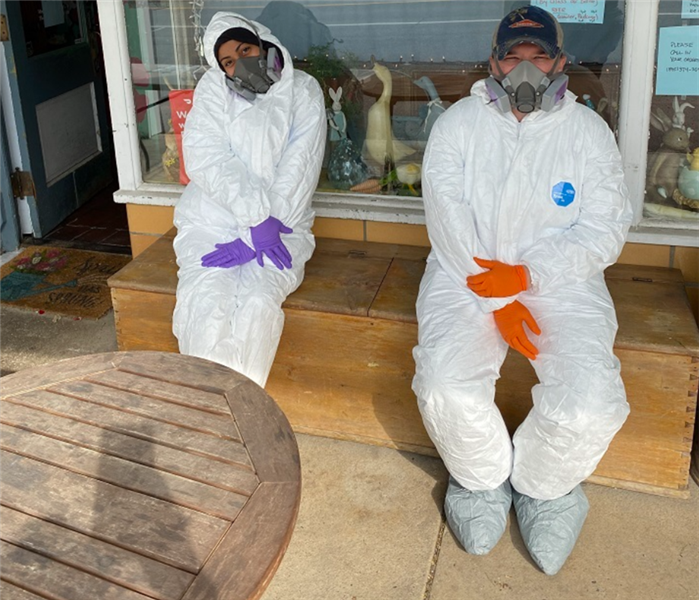 Did you know that water loss events can contain contaminants? SERVPRO has the necessary protective equipment to safely dry your home.
SERVPRO is Licensed to Deal with Biohazardous Substances. We Can Help Middletown Residents Overcome Water Damage from Sewer Blockage Intrusion
Middletown is an officially incorporated city in the Hudson Valley, a district of New York metropolitan area. The city is part of Orange County, while it has significant surrounding natural beauty in the Shawangunk Mountains and the Wallkill River, which connects to the Hudson. As reported in the most recent census in 2010, 28,086 residents are occupying Middletown. However, these numbers are likely higher due to the year-on-year growth of the area. The modern economy surrounding Middletown includes large employers like Walmart, Mediacom Communications Corp, and Colleges. There is also a rural community in and around the city, with many independent dairy farms.
The early settlers to Middletown first arrived in the mid-eighteenth century. Middletown's name was recorded as early as 1744, and the name probably due to its geographical location between two larger townships. The construction of railroads was responsible for the most prolonged period of sustained growth in Middletown. The Erie railroad connected Middletown to New York, which, combining with the industrial revolution, grew the region as a prominent manufacturer. Furniture, shoes, and lawnmower blades were among the famous exports from Middletown during the nineteenth and early twentieth centuries.
Middletown's modern-day downtown district has a strong reputation for its nightlife and restaurants, while shopping districts such as the "miracle mile" attract visitors from all over the state.
The Highland Lakes State Park encompasses 3,115 acres which are just north of Middletown. The locale is famous for its fishing, hiking, and horseback riding. As an undeveloped state park, the area is also an excellent spot for camping or going 'off-trail' on hikes.
Built nearly 150 years ago in 1872, The First Congregational Church of Middletown remains one of the city's tallest structures. The congregation was initially established as far back as 1785 and is widely considered a foundational part of Middletown's existence.
Take in the history of Middletown with a visit to their local museum on East Avenue. The Middletown Historical Society is a local organization specializing in this part of the Hudson Valley's unique history and settlements.
SERVPRO Can Remove Contaminated Water Intrusion from your Middletown Home
The source of water intrusion is influential in deciding the extent of damage that a home suffers, and the equipment needed to restore it to a preloss condition. Water contamination could include raw sewage, microbial bacteria, or human pathogens from a toilet blockage. In some cases, animal carcasses or pesticides can make a home unsanitary or dangerous with floodwater intrusion following a storm. SERVPRO technicians are trained explicitly in biohazardous substance disposal and can return your home to a pre-incident condition.
Personal Protective Equipment (PPE) could include chemical-resistant goggles, gloves, and, in some situations, full bodysuits in extreme cases.
We can install decontamination chambers on-site to prevent biohazardous substances from spreading into unaffected areas.
Disposing of biohazardous substances is governed by federal and local laws. SERVPRO can correctly dispose of these substances.
Return your home to a safe condition. Contact SERVPRO of North Orange County and SERVPRO of South Orange County for water cleanup at (845) 342-3333.