Which Water Removal Step Is Most Crucial in Middletown Homes?
12/9/2021 (Permalink)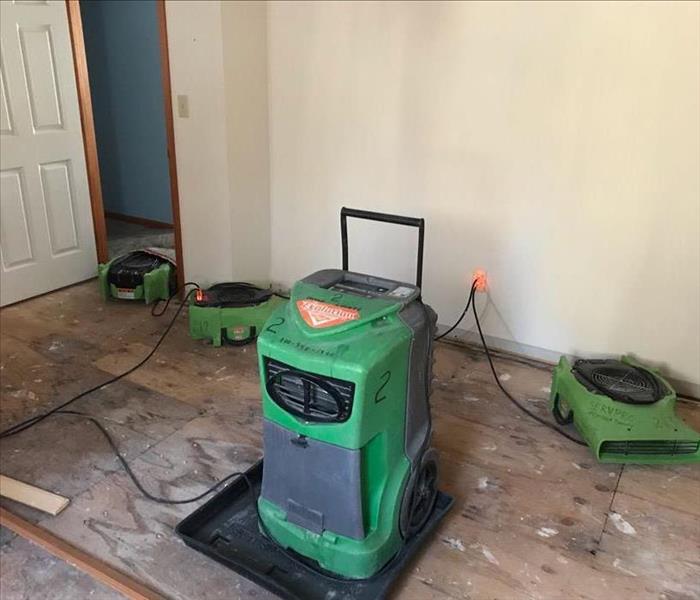 SERVPRO removes water, non-salvageable carpets and dries plywood subfloor in Middletown homes with LGR dehumidifiers and air movers
Professionals Like SERVPRO Take Comprehensive Water Removal Approaches
You probably know that addressing water intrusion in your Middletown property would take several processes. What may not be clear is what actions are essential and thus require faster completion or extra attention to ensure positive results.
All the steps taken during water removal at your Middletown home play a crucial role. What matters is whether they are done exhaustively, thus delivering the necessary outcome, which is why involving professionals like SERVPRO helps.
Exhaustive water removal takes:
A thorough extraction, especially from porous surfaces
Sufficient circulation of air over the wet areas
Balanced dehumidification and evaporation rates
The order in which the water removal processes are done matters in determining the efficiency. Finishing extraction processes before starting drying processes improves efficiency since extraction is 1200 times faster than evaporation. Our SERVPRO crews can maximize the amount of water removed through extraction by using equipment with superior vacuum lift or weighted extractors that squeeze materials first to support extraction efforts.
Correctly finishing the water removal process is essential since it prevents additional problems that might develop later, whether it is strong odors or microbial growth. Carefully planning and closely monitoring the drying process is essential. Our SERVPRO crew chiefs calculate the number of air movers and dehumidifiers necessary to complete drying within 72 hours, thus ensuring mold does not develop in the wet areas. We also keep monitoring the progress by taking readings with moisture meters.
Other simple steps such as correct equipment positioning also help. For instance, when using axial fans, our technicians position them at a 15°angle and 45° when using centrifugal fans, creating a vortex of circular airflow for sustained drying.
SERVPRO of North Orange County and SERVPRO of South Orange County manage water removal from any property professionally. Call us at (845) 342-3333. We're Faster To Any Size Disaster.