Water Damage in Medical Facility
8/15/2017 (Permalink)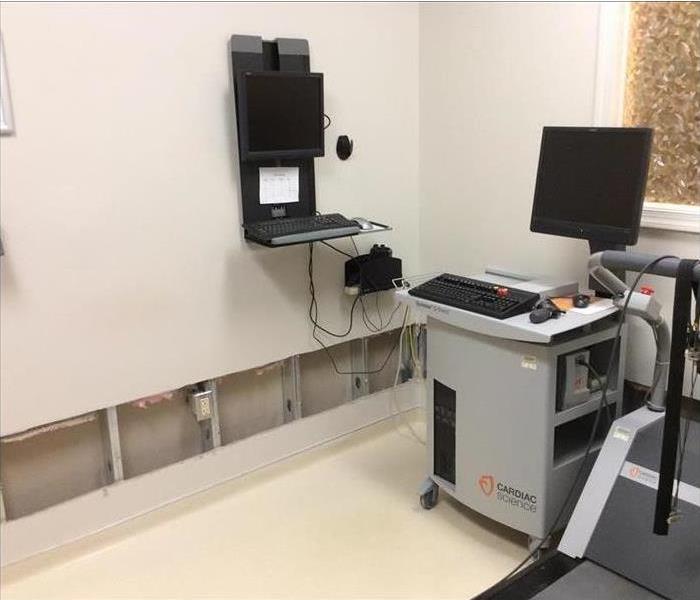 SERVPRO of Orange County arrived promptly the night of the water damage to ensure this medical facility could re-open the next day.
Commercial buildings require a special attention to detail when it comes to water damage. Many things must be taken into consideration when making a plan for remediation and restoration. In a recent scenario, SERVPRO of Orange County was called in to address a water damage that was discovered after-hours in a mid-sized medical facility. Construction in an adjacent unit caused a water supply line to break, causing water to flood into exam rooms, waiting rooms, offices and hallways. Over a dozen rooms were affected in total.

SERVPRO of Orange County's water damage restoration team coordinated a plan with the facilities team and the medical staff beginning with the immediate extraction of all standing water. Drying equipment was set up in each room to mitigate further damage that may have been caused by rising humidity levels.
We were able to prioritize essential rooms to make sure patients could still be seen for treatment the very next day. Throughout the restoration process we kept clear communications with the medical team and coordinated their schedule with our restoration efforts so that they could continue to operate according to schedule.
Notice the careful removal of drywall shown in this photo. Many medical facilities utilize a special kind of flooring that curves as it meets the wall. Our technicians were able to detect moisture was being held inside the walls by wet insulation. In order to dry the walls properly we had to remove a section of the sheetrock and cut out any wet insulation. To do so, we cut one foot above where the flooring meets the wall so that the new sheetrock could be put in place without having to cause unnecessary damage to the flooring.