Why Does Mold Damage in Newburgh Seem Worse After Cleaning?
1/26/2021 (Permalink)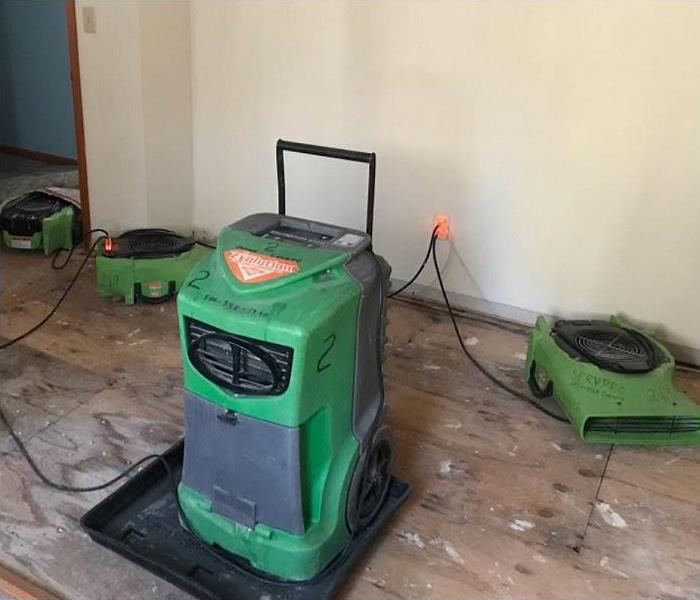 Water damage can cause mold issues. SERVPRO is always on call for water damage restoration and mold remediation.
Mold Growth Needs Moisture, SERVPRO Knows how to Keep Things Dry
Newburgh homeowners proud of beautiful, well-maintained homes feel dismayed when mold growth persistently reemerges. Many believe mold means poor housekeeping. Surprisingly, grabbing a bottle of diluted bleach solution to eliminate mold colonies can feed rather than defeat the fungi.
How Do Mold Outbreaks Start in Newburgh homes?
No closely held secret describes the way Newburgh mold damage occurs. It is a simple equation:
Mold spores everywhere in your home
Plus a moisture source
Plus 24 to 48 hours
Equals proliferation of mold colonies
Where Is the Growth-Accelerating Water Found?
SERVPRO mold remediation crews watch for signs of moisture during mold damage evaluation. Spaces like bathrooms and kitchens are humid enough to start mold growth, especially without exhaust fans' consistent use. Repeated application of water-based mold inhibiting solutions can also backfire, leaving porous materials like drywall and unsealed grout damp.
Bleach does not penetrate deeply enough to kill the mold's hyphae (roots)
High water content then reactivates the mold or new spores.
Reach out to SERVPRO of North Orange County for moisture control tips and mold remediation services. Call (845) 342-3333 to schedule an assessment.