When Leaking Dishwashers Cause Water Loss Events in Newburgh
8/21/2022 (Permalink)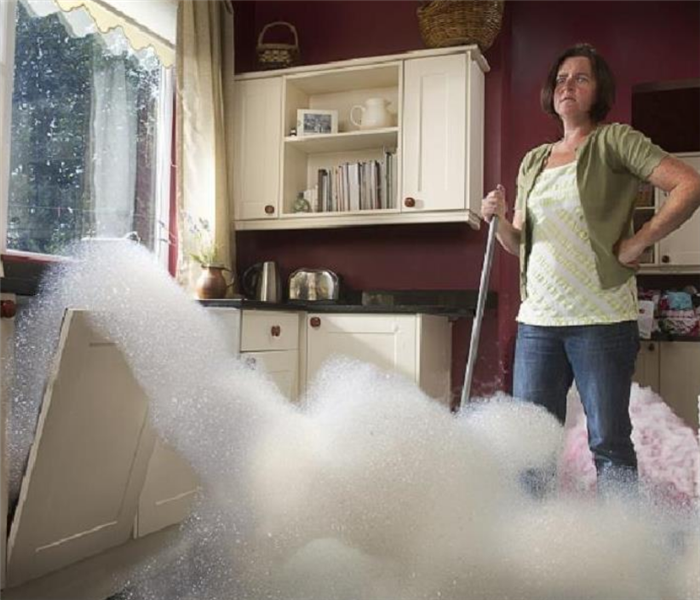 Any type of leak in the kitchen needs to be dealt with immediately. Call SERVPRO to assess and start the drying process.
Speed Saves the Day When Newburgh Home Needs Water Removal
Most homeowners never think about their dishwashers, until it is spewing gallons of water on the kitchen floor. Then, it may seem overwhelming as to what to do first.
After turning off the water, one of the smartest actions a homeowner can do is to contact SERVPRO for water removal in their Newburgh home. The emergency response teams are on standby 24-hours daily, so there is never a wait to begin recovery from loss.
Why SERVPRO?
Acting swiftly after a water loss in the home is crucial. That is why SERVPRO team members are available 24/7 - even on holidays - and arrive within an hour of the initial call. The techs bring all the tools and equipment required in their green service vans to restore the home to its pre-damage condition.
Careful Scoping of the Property
SERVPRO techs use their moisture detection equipment to carefully map the path of where the water from the dishwasher migrated. Because they arrived quickly, in this case, no seepage occurred into the subfloor, as confirmed through the equipment.
Water Removal Tools and Techniques
In a water loss from a supply line in a kitchen, it is common to find water under cabinets and have an area of the wall that requires drying behind the dishwasher. The techs remove the toe kicks under the cabinet and pull out the dishwasher to ensure that they extract as much water as possible before drying.
Fast Drying Limits Loss
Since the cleanup efforts began quickly, loss to the property was minimal. The techs used air movers to dry both the flooring as well as specially directed airflow at the wall where the supply line broke. Once the technicians completed the drying phase, they wiped down the surfaces and got the space ready for repairs by the plumber.
SERVPRO of North Orange County at (845) 342-3333 arrives fast for water removal needs. Our certified technicians have both the experience and equipment to make any size water loss, "Like it never even happened."